Mark 8:22-25
They arrived at Bethsaida. Some people brought a sightless man and begged Jesus to give him a healing touch. Taking him by the hand, he led him out of the village. He put spit in the man's eyes, laid hands on him, and asked, "Do you see anything?"
He looked up. "I see men. They look like walking trees." So Jesus laid hands on his eyes again. The man looked hard and realized that he had recovered perfect sight, saw everything in bright, twenty-twenty focus.
Although our volunteer doctors don't heal the same way Jesus did, they can use the miracle of modern science to bring clear vision to those who otherwise might have to struggle just to see the words on a job application, or to read a road sign because they can't afford vision care. The goal of our new clinic is to restore hope and transform lives of those whose poor vision is a stumbling block to employment, driving, or other life tasks most of us take for granted.
Vision Clinic Hours
The clinic operates every Monday and Tuesday evening from 5pm – 8pm. Qualified individuals receive an eye health exam and glasses. The clinic is staffed by volunteer professional optometrists. The Olympia Host Lions, along with area Lions Clubs, pay for the lenses in the glasses. The frames are donated by frame companies and local optometrist offices.
For more information, or to make an appointment, please contact Theresa at (360) 709-9725 during business hours Monday – Wednesday 1pm – 4pm.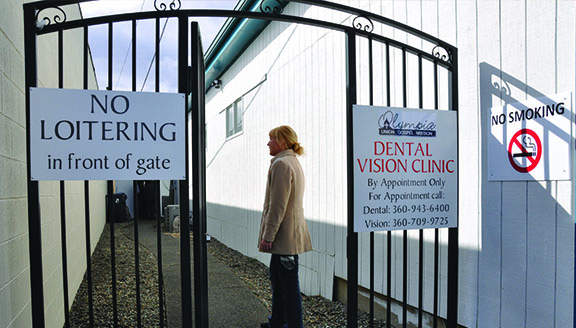 No-Fee Vision Clinic address:
309 Washington St NE, Olympia
360.709.9725
By appointment only!!!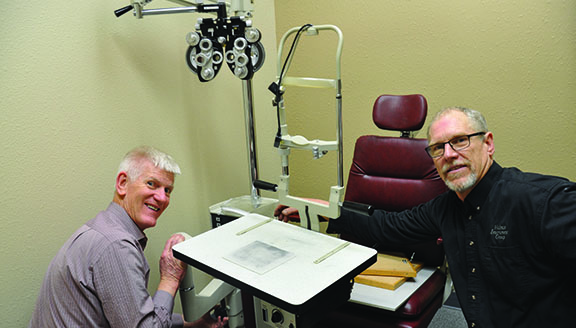 The Mission's Optometrist Coordinator, Dr. Baxter (L), and Steve Mayfield are setting up the new clinic.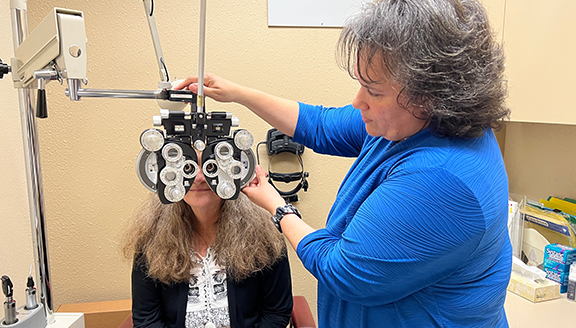 Theresa Carrillo, Clinic Manager, is preparing a patient for an eye examination.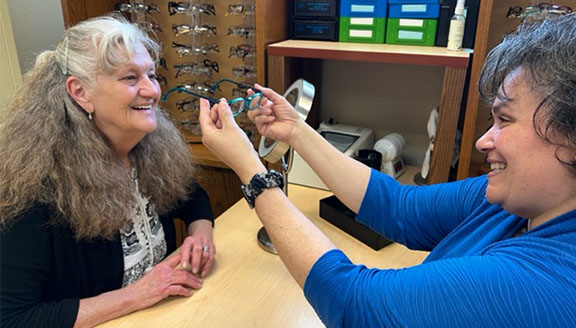 A patient is trying on one of the many fashionable frames available to select from.